Eminem news:
5 / 11 / 00
Fake-Ass Bullshit Alert: there is a bootleg "Marshall Mathers LP" for sale on the streets. Don't waste your money. It is merely a copy of the Marshall Mathers LP snippet tape.
The CD has been spotted for sale on the streets in New York. Again, just look at the titles on the back and you will know it is fake... it doesn't even contain "Bitch Please II" or "Stan".
Don't waste your money. Pick up the real deal on May 23rd.
5 / 09 / 00
#1 on TRL, huh? 3 days in a row now. Hmmm.....
Expect some serious changes 'round here in the next few days. Finally, we have a new format coming. I know, it's been a minute, but the wait is worthwile. New pages, more updates, more content. And the site will still be administrated by our friends at Hip Hop Site. But things will be much, much grander.
New shirts are on their way to our online store at Artist Direct. You can link directly to the site from our home page. Look for new Eminem shirts, Shady Records gear, and D-12 shirts soon.
As you may have heard, Bitch Please II (featuring Dr. Dre, Snoop Dogg, X'Zibit, Eminem and Nate Dogg) has been unleashed. You can catch this amazing banger on your local hot DJ mix shows.
Please be advised that any idiots on the street selling you copies of and album that looks like shit and is titled "Fucking Yzarc" by Eminem is a bootleg fake with absolutely no new material on it and has poor sound quality. The only real, new Eminem album is The Marshall Mathers LP on Aftermath/Interscope Records.
Also, you should be aware that there will be a clean version of the new album out May 23rd. The clean version, aside from being clean, has a track that the dirty version doesn't have, and vice-versa. So, I guess what we are saying is that you should peep both.
As you all know, the Dr. Dre Presents Up In Smoke Tour goes out in June. Confirmed acts are Dr. Dre, Snoop Dogg, Eminem, Ice Cube and Warren G. Look here soon for a confirmed tour routing. If you don't see it here, don't trust it.
More news soon.
4 / 25 / 00
Well, we are in a bit of a hotseat right now, aren't we? I'm sure you have all heard Eminem's new single, "The Real Slim Shady" by now. We won't pretend like we don't know what all the fuss is about, but damn! Ms. Aguilera was spouting off about the song before we even had a chance to release it! I guess she just likes it that much, huh?
The visuals to the audio are here! We hope you checked out "The Real Slim Shady" last night on MTV's Making The Video program. It will also be aired on Wed., 4/26 at 12:00 p.m., 6:00 p.m. and 1:30 a.m.; Thurs. 4/27 at 7:00 p.m.; Fri. 4/28 at 8:00 a.m. and 12:00 a.m.; Sat. 4/29 at 11:30 a.m. and 5:30 p.m.; and Sun. 4/30 at 9:30 a.m. and 4:00 p.m.
Its been over a year since you last got hit with it (phew), but we went back to the lab for another Eminem snippet tape! Catch out all new freestyles, vicious prank phone calls, and album cut samples. The new snippet tape will be available exclusively as a promotional item from your friendly neighborhood street promoters. Also, you can check out portions of the snippet tape soon here on Eminem.Com, and on FarmClub.Com. It is quite a hoot.
The album is still coming out May 23rd. That date has not changed.
Big summer tour plans are on lock for Mr. Mathers... From the middle of June through the middle of August, Marshall will hit the road. Details are coming soon with a big announcement. Eminem will hit arenas with at least 3 other big names. Look out.
D-12 are currently in the studio working on their debut album. In the meanwhile, Shady Records will release a single from the Dozen in late May. Rumor has it that the 12" will also have a bonus cut along with the A & B side from D-12. Catch D-12 in "The Real Slim Shady" video too.
Eminem will appear on the July cover of a certain prominent hip-hop magazine that neglected to feature him on a cover last year. Figured it out yet?
More news here soon. Hold 'em.
4 / 10 / 00
Good news. The date on Eminem's new album, The Marshall Mathers LP, has moved ahead to May 23, 2000.
Listen to your local radio mixshows on the weekend of April 21, 2000 for the debut of "The Real Slim Shady". The world video premier of "The Real Slim Shady" will be on MTV's Making of the Video program on April 24, 2000. Ask for it by name!
3 / 07 / 00
It was a long process. It has been a grueling 6 months for the world's most shady m.c. But, the hard work has paid off. The man that hates everyone and that everyone loves has completed his new album, 'The Marshall Mathers LP'.
The stunning collection of lyrical nightmares features a whopping 16 tracks. The album was executive produced by none other than Dr. Dre. Dre also produced 7 of the tracks on the album, including the lead-off "The Real Slim Shady", which is sure to offend everyone. The rest of the album was produced by Eminem and F.B.T Productions, with one track from Eminem's deejay, D.J. Head, and one track from the legendary Mark the 45 King.
Collaborations on the album include RBX & Sticky Fingaz, a song featuring Eminem's hometown crew (and Shady Records signees) D-12, and an all-star line up of West Coast favorites for "Bitch Please 2".
The good news is that the first single will be out at the end of this month. The bad news is that you have to wait until May 30, 2000 to go out and steal the album.
3 / 01 / 2000
EMINEM UP FOR THREE ONLINE HIP-HOP AWARDS
After sweeping the Grammy's, Marshall Mathers is up for three awards at this year's Online Hip-Hop Awards, including "Best New Artist", "Best Video" for "Guilty Conscience", and "Best Artist Website" for Eminem.Com! Vote and help us take home all three - (and don't forget to vote for Dr. Dre and HipHopSite.Com in the other catergories!!) Vote at www.Onlinehiphopawards.com.
2 / 24 / 2000
EMINEM WINS TWO GRAMMY AWARDS!!
Out of three nominations, Slim Shady took home awards for Best Rap Album (for "The Slim Shady LP") and Best Rap Solo Performance for "My Name Is". Watch what Em does in 2000.....
2 / 01 / 2000
EMINEM ANNOUNCES TITLE OF NEW ALBUM
TO BE RELEASED THIS SPRING
After the look inside the mind of Eminem's alter ego on last years The Slim Shady LP, you're probably wondering where he's going now – what's the next level? The next level is the side of Eminem that's possibly more frightening than Slim Shady. The side more disturbed than Eminem himself. The side that's been waiting in the shadows to spit rhymes at an unsuspecting public for years. The side you're seeing in newspapers, TV, and gossip columns. The side that's the title of the upcoming album: The Marshall Mathers LP. Eminem's already said he's going to be responding to everything that's happened to him in the last year on the new album…everything that's gone on since The Slim Shady LP has hit triple platinum. Who better than the man behind the men, the one who's lived through it all? The Marshall Mathers LP – hitting you like a drunk driver this spring.
1 / 31 / 2000
Slim Shady's second album "THE MARSHALL MATHERS LP" is almost finished and will be in stores in late Spring on Interscope / Aftermath. Six tracks produced by Dr. Dre. More information to come. You heard it here first!!
1 / 07 / 2000
None of us died. Well at least none of us reading this did. In an amazing feat of human courage, Eminem spent the last month of the year 1999 fixing the world's computers by eliminating the Y2K bug. Scientists discovered that the Y2K computer bug was actually the bug up Eminem's ass. Thus, it took him a month of deep psychotherapy and intense counseling to remove the bug. But, prior to the stroke of midnight, on December 31, 1999, Eminem came to the revelation that: "...I guess I am an angry little man", and the bug was thereby removed from his ass. All computers were simultaneously fixed, and we are all able to live. Thanks, Shady.
Between XMas and the year 2000, Em to a trip to LA,LA to meet up with Dr. Dre for the filming of the "Forgot About Dre" video. The video was directed by Phillip Atwell and the good Doctor. Most of it was shot on the Universal Studios back-lot. MTV was on hand to film a "making of the video" special. The video is in the editing process, and it will debut in mid-January on MTV.
It doesn't seem that anyone really forgot about Dre at all, did they? Congratulations goes out to the Doc, who has sold 2 million copies of 2001 in just 7 weeks!
Eminem performed New Year's Eve at New York's infamous night spot, The Tunnel. In case anyone doesn't know, this is the same spot that was featured in Larry Clark's controversial film "Kids", which Em spoke of in "Guilty Conscience". Em rocked the house hard, performing "If I Get Locked Up" (from Funkmaster Flex & Big Kap's album The Tunnel), and his verses from Notorious B.I.G.'s "Dead Wrong" and "Forgot About Dre". It was quite a show! Afterwards Shady and his crew stumbled to New York hotspot Chaos for Pee Diddy's party, where everyone drank themselves to sleep.
Now, for what you are all reading this for: Eminem's new LP, still untitled, will be wrapped up this month. What does that mean for you? That you should expect a new single sometime in February, and the album in late March or early April. Keep us locked, people. This is the only place to find out the real scoop on the new album anywhere in the world. When he isn't being a big stingy bastard, Eminem's manager Paul Rosenberg has let some lucky people listen to a few of the tracks that he keeps locked up in the safe in his office. Lets just say that you wont be dissapointed...
In other Shady news, Shady Records, along with Goliath Artists (Paul Rosenberg's managment company) opens their new offices next week in New York City. Although Eminem obviously won't be in the offices every morning drinking coffee and watching The View, Slim will be conducting his business from that central location. Look for stories with photos of the new spot to pop up in the press all throughout the beginning of this year.
Eminem was named Rolling Stone magazine's Best New Artist for 1999!
Also, in case you haven't heard, Slim was nominated for 3 Grammy Awards! The nomiations include Best Rap Album for "The Slim Shady LP", Best Duo or Group for "Guilty Conscience" feat. Dr. Dre, and Best Male Solo - Rap. The awards are on February 23rd, 2000 in Los Angeles. Watch 'em.
The 1999 American Music Awards will be held on January 17, 2000 in Los Angeles at the Shrine Theater. Special featured performance: Eminem and Dr. Dre! Watch those, too.
Now on to a serious note. Eminem's grandmother. We know you have all heard the story that she wants to sue Eminem, too. To clear up the confusion, the story goes like this: Eminem's late uncle Ronnie grew up with Eminem and was the same age. They both started getting into rap music at the same time, and used to practice early recordings as a loose "group", with the two of them beatboxing and freestyling on cheap home recordings. Em came accross one of the tapes recently, and asked his grandmother, Ronnie's mother, whether he could use the cassette on his next album as a tribute to Ronnie. At first, she said fine. After a dispute over a separate matter with Em, she said "no way" and threatened to sue him if he used it. THAT'S IT! The album hasn't been completed, the tape was never added, it was just an idea. If his grandmother won't let him use the tape and pay tribute to her deceased son, so be it. It won't be used...
As far as the site goes, check out the all new photo gallery, a new EM-P3 "Just Rhymin' With Proof", and all new Eminem merchandise at www.EminemDirect.com! Peep the links on the frontpage....
Hey! Thats it for now. Take care of em'!
11/16
I am sad to begin this latest installment of the Eminem.Com newswire with a down note: The Slim Shady European Tour was cut short. Eminem's throat went out, he came down with a chest infection and needed doctor recommend bed rest for a week. Our apologies go out to all the Slim thirsty fans in Copenahgen, Hamburg and Malmo. We hope to catch all of you next year at the festivals.
On the upside, the European Tour was a great success overall. Peace goes out to all the "punters" that showed up all over to witness the hour long Eminem set, along with openers The High & Mighty. The hypest crowd in Europe award goes out to Glasgow, Scotland! The worst food in Europe award goes out to Chemitz, Germany! The best women award goes out to Stockholm, Sweden! The best after-party award goes out to London, UK for the Polydor UK sponsored Gold party at Astoria! (a lapdance joint)-- the Absinthe was flowing like tap lager...) Peace and love to all of you, and check here soon for exclusive pictures, and footage of the London concert and "Still Don't Give a Fuck" live in Stockholm.
Eminem goes off next week to Los Angeles next weekend to record the video for "Forgot About Dre" from Doctor Dre's 2001 album. It is in stores now, go cop it.
11/06
I hope all y'all had a chance to check out Eminem and Dr. Dre's performance of the instant classic "Forgot About Dre" on Saturday Night Live on October 23rd. It was truly a moment that everyone is talking about, and has built the anticipation for Dr. Dre's "2001" album, which hits stores on October 16th. Eminem also appears on "What's The Difference" with Dre and Xzibit on "2001". Go buy it as soon as you possibly can. You won't be sorry.
Speaking of which, the Doctor and Slim are going to film a video for "Forgot About Dre" at the end of this month. Look for it in early December on your favorite video source.
Big shout out to all the European fans who are out supporting Slim during his Slim Shady European Tour which is going on right now. Everyone out in Europe has shown tremendous love for Em, and the best is yet to come- 2 shows in London on November 8th and 9th and a show in Eminem's favorite spot, AMSTERDAM on November 12th. If you have the means, we 'highly' recommend attendance. Look for exclusive footage from the tour to pop up on our home page soon, and check out the 'Appearances' section for a Euro tour schedule.
To put everyone up to date, these are the projects Eminem will be appearing on before year's end: "My Fault" (Pizza Mix) on the Celebrity Deathmatch Soundtrack (MTV/Interscope), Funkmaster Flex & Big Kap album (Def Jam), DJ Clue?'s new mixtape album (Def Jam), "Dead Wrong Remix" on Notorious B.I.G.'s "Born Again" album (Bad Boy), "Bad Influence" on the End Of Days soundtrack (Interscope), Next Friday soundtrack (Priority Records) and, of course, the Dr. Dre's "2001" album. Is that enough to quench even your Shadiest thirst? We hope so. If not, just wait until the next album drops in the first part of 2001, along with a song on The Madd Rapper's album (Sony), Royce The 5'9"'s album (Tommy Boy) and Tony Touch's Piecemaker LP (Tommy Boy).
D-12 (Dirty Dozen) will be dropping a quick 12" on vinyl only on Shady Records in January. You will be able to pick it up here, or at your local vinyl spot.
BIG NEWS: Eminem.Com inks deal with Artist Direct, HipHopSite:
Sources close to Eminem (me) say that Eminem.Com has inked an exclusive deal with ArtistDirect.Com to be the new home of the site, which will be linked to a brand spanking new On-Line Eminem store ran by the folks at Artist Direct. The deal also includes the creative team at HipHopSite.Com, who have been bringing you Eminem.Com from day one, along with Eminem's manager's firm, Goliath Artists. The site will re-launch early next year with an all new look and feel. Expect the store to include products not available anywhere else, including the much anticipated "Fuck You Mummy" statue, which is a plastic 3-D version of the illustration in the Slim Shady LP artwork interior. As usual, we will let you know about it here first!
Until next time, remember that DJ Head sayeth: "Deez nuts, man."
10/21
Watch out for Eminem, Dr. Dre, and special guests on this weekend's Saturday Night Live!! Oct. 23 @ 11:30 PM on NBC!!!
...and yes, the rumors are true, Em has recorded a "Dead Wrong" remix for the forthcoming Notorious B.I.G. project. More on this in our next update......
10/08
Okay, a bunch of things have changed since our last installment...
1) The Celebrity Death Match soundtrack, to be released this fall on Interscope Records, will feature the vocal remix of "My Fault". Additionally, a video for "My Fault" is in the works, featuring a claytmated Slim Shady!
2) The 'End Of Days' soundtrack (new Schwarzenegger armageddon flick) will feature the unreleased track "Bad Influence".
3) Eminem's "Slim Shady European Tour" has been delayed a few days due to Eminem's scheduled Saturday Night Live appearance on 10/23 with Dr. Dre. Check the "Appearances" section this coming week for an updated schedule.
Now, for the regular news... Eminem's "Fanatic" will appear on MTV next week. Should be verrrry interesting. The show will air on Friday, 10/15 at 5p.m. and 10:30p.m., and Sunday 10/17 at 10a.m., 7:30p.m., and 11:30p.m., to start with.
Dr. Dre's "Chronic 2001" IS COMING OUT: 11/9/99.
Em is in the studio working on his second Interscope album. Shady is already 6 or 7 songs deep, and so far, it is quite a spectacular epic. Production to date has been handled by Dr. Dre, FBT Prods., and Eminem, with a CRAZY track provided by DJ Mark the 45 King (of "Hard Knock Life" and Flavor Unit fame).
D-12 is set to begin recording their Shady Records debut in January, 2000. Look for a 'white label' Shady Records D-12 indie to come out early next year.
In more D-12 news, check for them, along with Shady this Sunday, 10/10/99, on Stretch Armstrong's HOT97 XL Radio Show in New York City.
I'm sure you have all heard by now about Eminem's mother suing him. It is all true. The lawsuit, and Eminem's statements. Eminem has retained some fine local Detroit attorneys, and hopefully the suit will be wiped out within a couple of months.
As always, check back here soon for details!
9/28
From MTV.Com:
Eminem To Executive Produce D-12 Album For Hometown Crew
Eminem appeared onstage alongside mentor Dr. Dre and compatriot Snoop Dogg this past weekend in Oahu, Hawaii for a special appearance at The Concert on Chronic Island.
The "Slim Shady" rapper will take the next month off before launching a European tour on October 21 in Amsterdam, but Eminem recently told MTV News that he's anxious to continue work on several projects, including producing an album from newcomers D-12.
Comprised of MCs Proof, Bizarre, Von, Denine, and Swift, the D-12 (which stands for Dirty Dozen) rap collective consists of many of Eminem's Detroit friends, and he recently signed the group (which he often performs with) to his new label, an offshoot of his deal with Interscope Records. "Well, I just got my own label deal with Interscope Records," Eminem told MTV News. "It's called Shady Records, and I got a group called D-12 that I'm bringing out [on the label]. That's like my crew from back home, back in Detroit, and I'm planning on executive producing them."
"I'm going to be in there," he continued. "I'm going to be on the album, and I'm gonna be there in the studio, creating stuff or whatnot. It's going to be dope, it's going to be hot. I'm bringing heat with this group." [RealVideo]
In addition to the D12 record, Eminem is also planning to wrap work on his own new LP before the European excursion starts (see "Eminem To Get 'Angrier' For New Album, Will Finish LP Before European Tour").
According to a publicist for Interscope, the Eminem-produced D-12 album isn't expected to arrive in stores until sometime next year.
-- David Basham
9/07
As you all know, Eminem has been in the studio for the last three weeks working on his forthcoming, as yet untitled LP. So far, there are about 4 tracks done, produced by Dr. Dre and F.B.T. Productions. Check back here for song titles!
Eminem will participate in the forthcoming Interscope Records release of the soundtrack for Celebrity Deathmatch. An all knew track from Eminem, titled "Bad Influence", produced by F.B.T. Prods. & Eminem, will be included in the soundtrack. It looks like Shady may also be "claymated" for one of the new season episodes. The soundtrack will be out this fall.
The big day is coming, 9/9/99... Watch Shady's performance with Dr. Dre (and a surprise guest on the '99 MTV Video Music Awards. And wont you all be happy to see N'Suck and Wackstreet Boys take home all the moon men? If Shady doesn't win one, its up to you guys to send all the rotten eggs to 1515 B'Way. (just kidding, really...)
Later that same night, Funkmaster Flex and Franchise Marketing are throwing Shady's 2X Platinum After Party at El Flamingo in NYC. If you are in the rotten apple, stop by and say "high!"
Look for the D-12 song "Get Back", featuring Proof, Bizarre and Slim Shady on Tony Touch's forthcoming "Piecemaker" LP on Tommy Boy Records.
Em is also throwing a hot verse on Funkmaster Flex & Big Kap's mix tape coming out this winter on Def Jam. Check the appearances section on the home page for Em's upcoming spot dates scattered around the country. Thats it right now, du.
8/24
Sorry for the delay, but the Eminem camp was out of the country for a couple of weeks and trying to handle the Source Awards festivities.
Em had a sucessful recent promotional stint in Europe. Shady had a chance to wreak havoc on London, Stockholm, Amsterdam, Hamburg, Munich and Paris.
While in London, Shady made aguest appearance at Scratch during the High & Mighty concert. Fans were treated to Slim dropping his drawers and trading mics with Mr. Eon on "The Last Hit" featured on the High & Mighty LP, Homefield Advantage. Em also was treated to a new drink called "Absinthe"- which is outlawed in every country in the free world besides U.K. and Csekolsovakia where it is brewed. The drink supposedly contains hallucinogenic properties, which Em figured would just prepare him for Amsterdam. Suprise guest at Scratch was "Tower with the Power" YZ, who shared a few sips of the green bastard Absinthe and chatted with Shady about London's lack of good porn.
Em also enjoyed Stockholm for its abundance of natural blondes and legal gambling. In general, the Eminem camp really likes Germany for its McDonalds, beer, and the group Absolute Beginner. Amsterdam, well, y'know. Shady hit the greenest of greens there and was sent on a writing tirade for 5 days straight. He composed nearly 5 songs over the three days after the Amsterdam Experience. Paris was cool for Slim, except by that point the whole crew was spent...
European fans will be happy to know that Eminem is returning for a 3 week tour beginning at the end of Oktober. The finalized tour itinerary will be posted here shortly.
7/28
Avid supporters of the Eminem cause will be delighted (maybe) to learn that Eminem had been nominated for FOUR MTV MUSIC AWARDS!
Thats right, Shady will be celebrated worldwide this September 9, 1999 (9.9.99) as you sickos get to see him up for 1) Best Video- Male [My Name Is], 2) Best Video- New Artist [My Name Is], 3) Best Director [My Name Is] and 4) Breakthrough Video [Guilty Conscience]. Will Shady be performing at the event? See below...
Eminem will be in Europe for promotional stuff from August 3 - August 13. Following that, Marshall is going home to relax for a second before getting back in the studio late August.
As you already know, Em is nominated for Best New Artist by the Source Hip-Hop Music Awards. It will be aired on August 20, 1999 on UPN.
7/20
Shady goes down hard! Fans in Hartford, CT witnessed Eminem fall 6 feet from the front of the shoddy "stage" at a concert this past Sunday night. Em's slip was due to a wet stage, poor lighting, and a few too many...
After being checked out at Hartford Hospital, Slim came to New York for his appearance on MTV's Total Request Live on Monday. The doc said Em suffered from bruised ribs and latisimus dorsi, but he is only in fair shape.
We are sorry to report that Eminem will not be performing at his Warped Tour shows in Pitsburgh, PA and Philadelphia, PA due to his injuries. We hope that Slim will be up and running in time to do his show this Thursday in Buffalo, NY. Check back here for details on when Marshall is good to go.
As some of you may already know, Eminem was nominated for the "Best New Artist" category for the 1999 Source Hip Hop Music Awards. Look for Slim to >appear on the broadcast in August on UPN. Check the Source mag for details!
Em is also going to be performing live at a certain BIG award show in >September. This is going to be a MASSIVE production. Keep watching that certain HUGE network for announcements about the LARGE award show and Eminem's performance and nomination(s).
Slim was in the studio yesterday following his MTV visit for Tony Touch's >mixtape album coming out late this fall on Tommy Boy Records. The song, produced by The Alchemist, also features Bizarre and Proof of D-12 (Dirty Dozen). Very hot, indeed. Thats it. Check the quotes from the Warped Tour above for frequent updates!
07/11
All of you heads will be happy to know that Em is going back into the studio following the Warped Tour and a short European promo trip at the beginning of August to begin recording album number 2. There is no working or tentative title for the album, and there is no anticipated release date at this point. However, Em plans to keep side-artist collaborations to a minimum once again. You should also plan on hearing production from Dr. "Muthafucka I'm" Dre, as well as Em's long time collaborators, the Bass brothers.
Eminem's "Bad" half, Royce the 5'9" from the Bad Meets Evil single and album cut, is almost done with his first full length album, due out early next year on Tommy Boy Records. The album will feature new collaborations with Eminem. Royce's single, "I'm the King" is available now on Game Recordings (you can pick it up on wax at HipHopSite.com). Expect another single from Royce late this summer or early fall on Tommy Boy.
Some of you may be wondering, "Who is Proof?" or "Who is Bizarre?" or "What exactly is the Dirty Dozen (D-12)?" Well, to make it short, Proof is the winner of this year's Source Magazine Unsigned Hype Contest. He has also been on the road touring with Eminem for the past 5 months or so as his back-up. He is also Eminem's friend from his Detroit childhood and a member of D-12 (Dirty Dozen), a sick crew of MC's from Detroit. Bizarre is another rhyme partner and cronie of Em's from Detroit, who released his "Attack of the Wierdos" EP last year on Federation Records. Bizarre is also a member of D-12.
Why are we telling you all of this? Well, D-12 also includes Eminem. Other MC's in the Dirty Dozen are Von, Denine, and Swift. The Dirty Dozen is the clique from which Em's Slim Shady ego arose. And, D-12 will be coming out with a single soon on the newly formed SHADY RECORDS. Your heard it here first, remember that.
Keep voting for "Guilty Conscience" on MTV's Total Request Live. We are definetely feeling the love.
Look for the video for Role Model in early August. We will let you all know where and when you can see it first.
06/17
Eminem will be on The Howard Stern Show on CBS this Saturday 6/19 @ 11:30 PM.
06/12
Slim shady has joined the Vans Warped Tour - Click here for tour dates!!
06/11
For those of you who haven't peeped it, Eminem's (feat. Dr. Dre) "Guilty Conscience" video is blessing boob tubes across America. You can peep Shady facing off against Dre in (expensive) virtual camera action on BET, The Box, and MTV. Sorry about all of the edits, but, ya know the rules...You can check the unedited version online on our front page.
Eminem's next video, "Role Model", has also been completed. The video is not slated for release at present time. However, expect to be shocked and amazed, especially when Em "...jumps in a chicken hawk cartoon with a cape on." We will let you know as soon as the video will be debuted right here @ Eminem.Com.

Thanks to all of you who supported the Slim Shady Tour. We appreciate your attendance, patience and dedication to the cause. The tour was a resounding overall success. Summer tour plans are still in discussion, but it is possible that Marshall will be co-headlining a short, major city tour with another gifted lyricist come late July. Hint: "The smooth criminal on beat breaks". Got it? Stay here for details.

As you all have seen in The Source and other magazines, Dr. Dre's Chronic 2001 is approaching. Tentative street dates are some time late this summer. It is sure to be another classic.

Em is scheduled to go back in the studio for his next album real soon. There is no working title for the next LP, but Slim says that "the last album opened you up to Slim Shady's world, and how f'ed up it is. The next one is going to go more in depth and show you why I got this way."
Finally, Tuesday, June 15th, is a big day for fans of Slim Shady, as three outside projects are dropping that feature him. Missy Elliot's new LP features "Busa Rhyme" with Em; Sway & Tech's LP, "This or That" features both "The Anthem" and "Get You Mad"; and the Wild Wild West soundtrack features the all new "The Showdown" with the unstoppable tag team of Dr. Dre and Eminem.

Thats all for this instalment. Check back real soon right here for another exclusive Eminem news update.
05/17
Okay, okay, okay. I know its been a minute, but we here at Eminem.Com are back for another installment of useless Eminem news, straight from the source. I hope that everyone checking this site out realizes that this is THE ONLY Eminem management run web-site. Therefore, the news updates posted here are the real deal...
Beginning next week, Eminem's GUILTY CONSCIENCE video will be airing on video channels and programs nationwide. Assuming that edits over this weekend meet the approval of MTV's standards department, the video will have its WORLD PREMIER on Total Request Live this Tuesday, May 18, 1999. Don't miss this one, it really is different and quite entertaining.
As you may have already heard, the radio version of Guilty Conscience features a chorus to patch the breaks in the song that are on the LP version. Additionally, the verses have been tidied up a la Shady style. It is Eminem's position that he would rather give listeners a complete song without all of the spin-back cuss words and blank spots. That is why he continues to go back in the studio and lay new clean vocals for singles instead of the sloppy clean edits that you may be used to.
I would like to bring another topic up for discussion... In some reveiws of the shows on Eminem's Slim Shady Tour (going on right now through the end of May) it appears that Em has been accused of lipsynching. That is completely preposterous and false. What these lower intelligence individuals are actually experiencing is Em sometimes rapping over full vocal versions of certain cuts. This is due to the studio errors of not cutting "TV Tracks", which are somewhere in between full vocal versions and completely bare instrumentals. Instead, D.J. Head only has instrumental vinyl versions. Which is cool, but on some songs. like "My Fault", the chorus is comprised of layered vocals, etc. Therefore, without the backing vocals it sounds very bare. However, on tracks like "Role Model" and "My Name Is" and "Just Don't Give a Fuck", where there aren't layered vocals or call and response choruses, Em raps over the bare instrumentals. So, to make this long explanation short, we are waiting for the appropriate vinyl versions of TV tracks, so stop accusing Em of falsities. And it is better that running of a lame DAT tape.
Everyone wants to know what is the deal with Eminem's plans for touring this summer, right? So do we. As it stands, there are no summer festival style packages going out this year. So, we are in the process of brainstorming with our agent about what we should do this summer. As soon as we know, you will find out about it right here.
Continuing on the topic of touring, some of you may be dissapointed in your hometown's due to the absence of The Beatnuts. Although their attendance has been spotty, The Beatnuts were scheduled to open in almost every city on the tour. However, due to personal difficulties and illnesses, the band has missed some dates. Look for the Nuts to close out the tour, and we apologize for any misleading advertising regarding their scheduled appearances.
We appreciate everyone's support of The Slim Shady LP, making it certified DOUBLE PLATINUM by the RIAA. Keep it on...
Speculations about Eminem's next album can be cleared up right here. The next LP, currently untitled, will be released either late this year or early 2000. Em will begin adding to the already completed tracks (3 or 4) in September. In the meantime, you know you can check for him on Soundbombing 2 on Rawkus Records, Missy Elliot's forthcoming album, The Chronic 2001 (Dr. Dre's, of course), DJ Spinna's forthcoming EP, and on the Wild Wild West soundtrack in his duet with Dr. Dre "Bad Guys Always Die". Ooops, did I say that?
Pick up your MP3 of the "My Name Is" Rock Star Remix right here on Eminem.Com. The track was remixed by Stretch Armstrong with the AC/DC "Back In Black" riff popularized in hip-hop form by B.D.P.'s "Dope Beat". More MP3's are on their way...
Finally, on May 8th, Eminem performed 2 sold-out shows at the House of Blues, Los Angeles. One of Em's biggest fans turns out to be Dustin Hoffman, who had brought all of kids to the early show. Dustin & all of his kids came backstage after the set to say hello, when Dustin asked if he could be the mummy (brought to life from the album art to dance on stage during Eminem's live performance) for the late show, which Eminem gladly obliged. The first surprise of the set was when Dr. Dre came onstage & performed "Ain't Nuthin' But A 'G' Thang" w/ Eminem, but the biggest surprise came at the end of the set when Eminem asked the audience if they wanted to see who the mummy was & ripped off the bandages on Dustin's head to reveal his identity. The sold-out crowd went bananas.
That is all for now. Hold tight, the message board is on its way!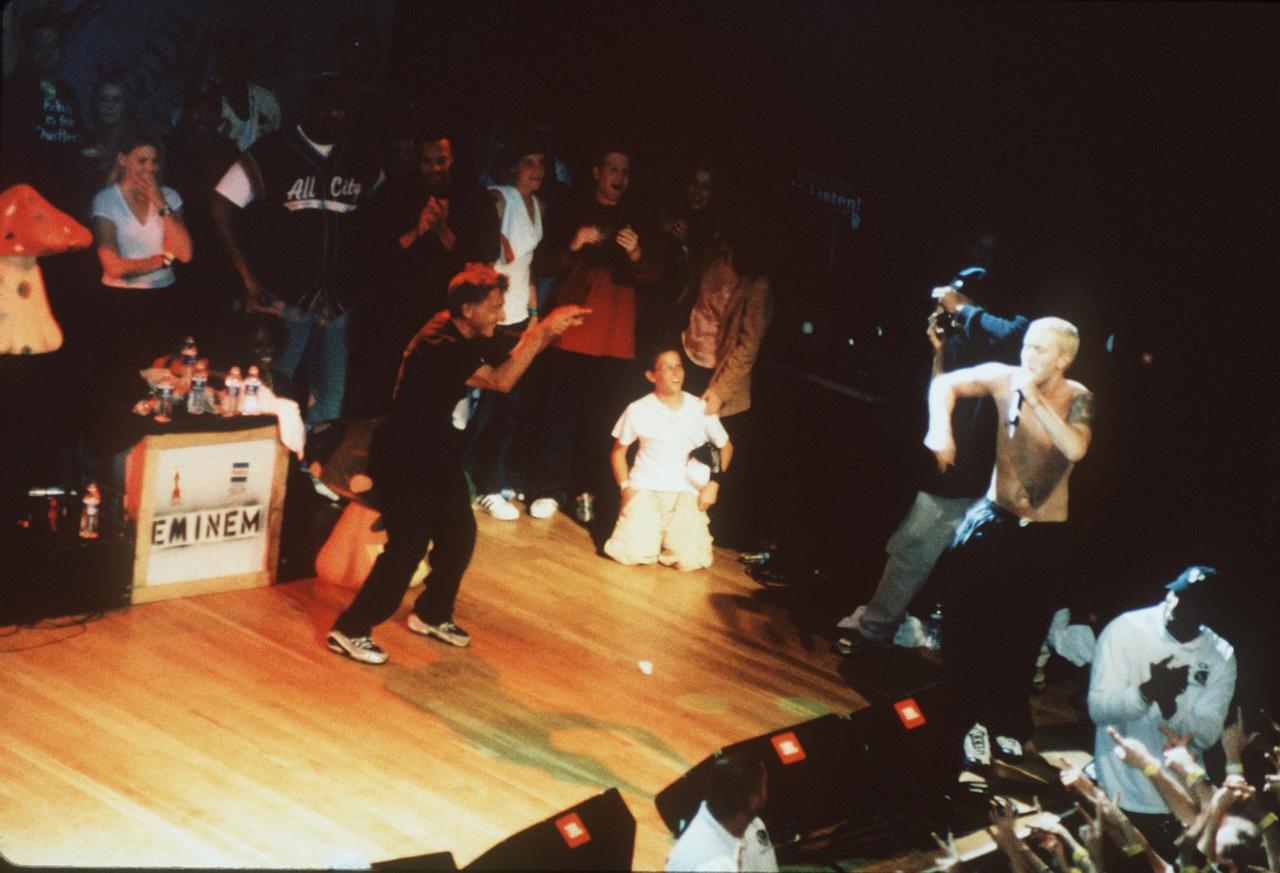 Eminem and Dustin Hoffman
ALL POINTS BULLETIN: EMINEM WILL BE ON HOWARD STERN 7:00 A.M. E.S.T. ON TUESDAY, 4.27.99.
04/26
Stop the presses! Eminem's next single will NOT (I repeat- NOT) be "My Fault". You see, in a strange biological twist of events (perhaps chemically induced) Em decided to flip the proverbial script. What is the next single?!?! WE DON'T KNOW!
What we do know, however, is that a whole heap (that's a lot for you non-cowpokers)of dinero was spent over the last to weeks filming videos in Los Angeles for two tracks off of the Slim Shady LP. That is why many of you may have experienced rescheduling of shows on the Slim Shady Tour. We apologize, but understand that you will not be disappointed by the videos for (drumroll please.....) ROLE MODEL and GUILTY CONSCIENCE. That is all that I have to say about that (Forest). Look for the videos within the next three (3) weeks.
The video version of "Guilty Conscience" is supported by an added chorus, making the song flow more fluently (as opposed to all of the start and stop voice-over breaks). "Role Model" was tidied up a bit for the kidies, but remains virtually the same.
Contrary to popular media, Eminem has not confirmed for any tour packages this summer. However, Slim has been offered to be on all of them. We should have his summer tour information for you within the the next week or so.
New Eminem T-Shirts are on the way! Be on the look out for a tour shirt and baby-tees.
Has anyone heard the Milkbone track "Introducing Milkbone"? It is slated to be on the Death Row Records version of "The Chronic 2000" LP. Throughout the virtually unlistenable track, the washed up fellow caucasian rhymer attempts to diss Eminem due to Em's line on "Just Don't Give a Fuck" where he taunts "I'm nicer than Pete, I'm on a Serch to crush a Milkbone". Don't think Shady won't respond...
Speaking of the (real) Chronic 2000, Dr. Dre's Aftermath Entertainment banger will drop in July of this year. As we have told you already, the album features Eminem on 3 tracks, as well as Snoop Dogg, Kurupt, Hit Man, and a few surprise guests. Hints for 2 other surprises: "But wait it gets worse", and "I have no remorse". That is all I can say for now.
Let us close this installment with this: There is a possibility that DR. DRE, EMINEM and SNOOP DOGG will tour together this fall. STAY TUNED, junkies.
03/24
This past weekend, Em was in the studio recording a clean vocal version of "My Fault", which is a candidate for Eminem's next single. In this radio friendly version, the Shadiest chants the same chorus, but twists the story in his own way to make it clear that "Susan" dies from an allergic reaction to mushrooms on pizza, not from the hallucinogenic natural drug fungus. Stay tuned, the clean version will premier here on Eminem.Com...
Em was very very busy this past weekend, as he also flew in from LA to appear in Pacewon (Rok-A-Blok /Ruffhouse /Columbia) of the Outsidaz' video for his hit underground joint "I Declare War". Guess who plays the part of the "mayor"?
Get this... many less talented rappers have decided to take on the #1 rapper in the country with their half-hearted pot shot responses to Eminem's dominance. The list includes such hopefuls as Milkbone, I.C.P., and, of course, Cage. We will be the first site to premier Milkbone's "diss" single, which we are told will be released on Death Row Records. Come back in about a week for this exclusive "joint".
Check MTV for Kurt Loder's interview with Eminem, including his answers to some tough questions about the lyrical content of his music, on this weekend's "MTV News 1515," Friday at 7:30 p.m., and Saturday and Sunday at 10:30 a.m. You can also catch much more of that conversation in an MTV News Online feature that will pop up right here on Thursday.
03/17
The evergrowing happy Eminem fan populace will be thrilled to know that the Shadiest performed in front of a throng of wild screaming spring breakers in Cancun, Mexico last week. Why should this make you happy? Because MTV caught it all on tape, and it will be broadcast as part of MTV's Spring Break '99 beginning this weekend, stupid!
Check out the "Appearances" box on the home page for an up-to-date schedule of the first leg of the "SLIM SHADY TOUR", beginning in Chicago on April 7, 1999!
Over 600 lucky Detroiters caught Eminem at Record Time in Roseville, MI this past Sunday, March 14, 1999. Eminem stayed signing autographs for over 4 hours! This was quite an event, as the local ABC news affiliate, channel 7 even showed up to get some coverage.
IT IS OFFICIAL! Eminem's Slim Shady LP has almost 5,000,000 copies in two weeks- making him GOLD already! Thanks for all of your support! Shady will be platinum like his hair by the end of the month!!!
RUMOR MILL:
Rumor has it that Eminem has recorded tracks with ICP. That is not true.
Rumor has it that Eminem has recorded tracks with Limp Bizkit. That is true.
Rumor has it that Eminem is dead. That is not true.
Rumor has it that Eminem has battled Cage. That is not true.
Rumor has it that Eminem has recorded tracks for Jazzy Jeff's upcoming mix tape. That is true.
Rumor has it that The Outsidaz have signed a deal with Ruffhouse/Columbia Records and have started recording their album, which will feature Eminem on some tracks. That is true. Shall I go on???
CONGRATULATIONS goes out to Royce The 5'9" for signing his lucrative record contract with Tommy Boy Records! Look for the Bad half of Bad Meets Evil to drop late in '99!
What are you waitin' for? Go pick up your Eminem shirt NOW!
03/01
Mr. Shady is currently busy in the studio with Dr. Dre working on completing the "Chronic 2000" LP, due out early this summer. Eminem will most likely be featured on at least two tracks. Other collaborators on the LP are Snoop, Kurrupt, Hit Man, and Royce the 5'9". Early reviews of the tracks are nothing less than fantastic.
In other collaborations, Eminem has recently been in the studio with Missy "Misdemeanor" Elliot and The Madd Rapper (of Bad Boy fame) recording tracks for their respective forthcoming LP's. Additionally, Em has been in top secret recording bunkers with labelmates Limp Bizkit working on unmentionable collaborations. Come back soon for details.
The Shady one will be touring this spring! Em will headline a 20-city tour beginning early April. Other acts on the tour will include the Beatnuts, Mixmaster Mike (on selected dates), Pacewon of the Outsidaz (on selected dates) and the Last Emperor (on selected dates). The acts are subject to change, but the tour will go on! Check your local papers and promoters for more detail.
In the meantime, check for Eminem on Total Request Live on Wednesday, March 3rd.
Eminem will also do a short promo-stint in Europe beginning in late April. The U.K. will never be the same.
Eminem T-Shirts are in and for sale! Cop yours today, they will be gone tommorow. Click here to order!!
2/18
The temporary cast you may have been seeing on Eminem's right arm is not the result of any rough emcee battles, hitting his mother, nor failed gymnastic routines.
Mr. Shady simply got into a scuffle while promoting his upcoming album while sight seeing in the Haight-Ashbury district of San Francisco, CA. The incident was an unfortunate one which took place out of self defense on Slim's behalf. Becoming a star is quite dangerous these days...
On the upside, if you haven't been living in a cardboard cave you will no doubt know that Eminem's major label debut, THE SLIM SHADY LP, will be in stores Tuesday, 2/23/99. Please go out and support.
Check this site regularly for updated news flashes and current touring information. Oh yeah, don't forget to pick up a T-Shirt while you're around.